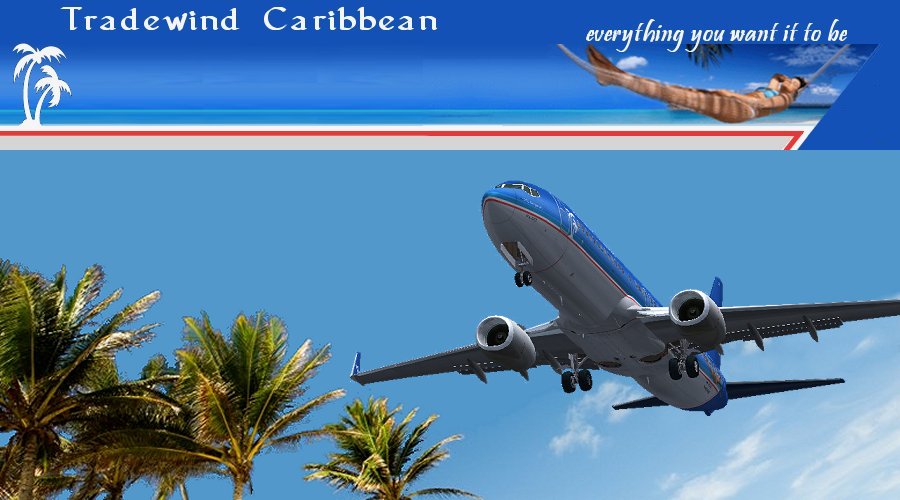 | | |
| --- | --- |
| Callsign ~ Tradewinds (already available in FS9) HERE | |
Also check the Payware Hangar
PJ-TXF 'Isla de Mustique'

Airbus A320-200 IAE ~ Project Airbus

Perhaps the most important contributor to Airbus Industrie's success as an airliner manufacturer, the four member A320 family is a significant sales success and a technological trailblazer. The 150 seat A320 is the foundation and best selling member of the family.

The A320 is perhaps best known as the first airliner to introduce a fly-by-wire flight control system - where control inputs from the pilot are transmitted to the flying surfaces by electronic signals rather than mechanical means. Apart from a small weight saving, the advantage of Airbus' fly-by-wire is that as it is computer controlled, an inbuilt flight envelope protection makes it virtually impossible to exceed certain flight parameters such as G limits and the aircraft's maximum and minimum operating speeds and angle of attack limits.

Also integral to the A320 is the advanced electronic flightdeck, with six fully integrated EFIS colour displays and innovative sidestick controllers rather than conventional control columns. The A320 also employs a relatively high percentage of composite materials compared to earlier designs. Two engines are offered, the CFM56 and IAE V2500.


Other Suggested Files:

Please read the Docs

Repaint by JF

FS9 version Includes 2D Panel ONLY

FSX version is based on the PA320 FD Special version v2requires SP2 and Acceleration pack although textures will work with other PA/panel combinations.
PJ-TXF 'Isla de Mustique'

REDUNDANT ~ Replaced by Project Airbus version

Airbus A320-200 IAE ~ iFDG v1.4

Perhaps the most important contributor to Airbus Industrie's success as an airliner manufacturer, the four member A320 family is a significant sales success and a technological trailblazer. The 150 seat A320 is the foundation and best selling member of the family.

The A320 is perhaps best known as the first airliner to introduce a fly-by-wire flight control system - where control inputs from the pilot are transmitted to the flying surfaces by electronic signals rather than mechanical means. Apart from a small weight saving, the advantage of Airbus' fly-by-wire is that as it is computer controlled, an inbuilt flight envelope protection makes it virtually impossible to exceed certain flight parameters such as G limits and the aircraft's maximum and minimum operating speeds and angle of attack limits.

Also integral to the A320 is the advanced electronic flightdeck, with six fully integrated EFIS colour displays and innovative sidestick controllers rather than conventional control columns. The A320 also employs a relatively high percentage of composite materials compared to earlier designs. Two engines are offered, the CFM56 and IAE V2500.


Other Suggested Files:

Please read the Docs

Optional but recommended:

aircraft.cfg update based on real world AOM data by Karl Hajek

Repaint by JF

Includes 2D Panel
PJ-TXJ 'Isle of Jamaica'

Airbus A321-200 IAE ~ iFDG v1.4

Like the shortened A319, the A321 is a minimum change, in this case stretched, development of the successful A320.


The A321 program was launched in November 1989 and the first development aircraft first flew on March 11 1993. European certification was awarded in December that year.


Compared with the A320 the A321's major change is the stretched fuselage, with forward and rear fuselage plugs totalling 6.93m (22ft 9in) (front plug immediately forward of wing 4.27m/14ft, rear plug directly behind the wing 2.67m/8ft 9in).


Other changes include strengthening of the undercarriage to cope with the higher weights, more powerful engines, a simplified and refined fuel system and larger tyres for better braking. A slightly modified wing with double slotted flaps and modifications to the flight controls allows the A321's handling characteristics to closely resemble the A320's. The A321 features an identical flightdeck to that on the A319 and A320, and shares the same type rating as the smaller two aircraft.


The basic A321-100 features a reduction in range compared to the A320 as extra fuel tankage was not added to the initial design to compensate for the extra weight. To overcome this Airbus launched the longer range, heavier A321-200 development in 1995 which has a full pax transcontinental US range. This is achieved through higher thrust V2533-A5 or CFM56-5B3 engines and minor structural strengthening and 2900 litres (766US gal/638Imp gal) greater fuel capacity with the installation of an ACT (additional centre tank).




Other Suggested Files:

Please read the Docs

Optional but recommended:

aircraft.cfg update based on real world AOM data by Karl Hajek

Repaint by Pat Hanna

Panel and sound aliased to the A320
PJ-CBB 'Sea Breeze'

Airbus A330-200 GE ~ Posky

The A330-200 is the newest member of Airbus' widebody twinjet family and is a long range, shortened development of the standard A330, developed in part as a replacement for the A300-600R and a competitor to the 767-300ER.


Airbus launched development of the A330-200 in November 1995, followed by the first customer order, for 13 from ILFC, placed in February 1996. First flight was on August 13 1997, with certification and first customer deliveries,to ILFC/Canada 3000, in April 1998.


The A330-200 is based on the A330-300 and shares near identical systems, airframe, flightdeck and wings, the only major difference being the fuselage length. Compared with the 300 the A330-200 is 10 frames shorter, and so has an overall length of 59.00m (193ft 7in), compared with 63.70m (209ft 0in) for the standard length aircraft. This allows the A330-200 to seat 256 passengers in a three class configuration, or alternatively 293 in two classes.


Because of its decreased length the A330-200 features enlarged horizontal and vertical tail services (to compensate for the loss of moment arm with the shorter fuselage). Another important change is the addition of a centre fuel tank, which increases the A330-200's fuel capacity over the 300's, and results in the 200's 11,850km (6400nm) range.


Like the A330, engine options are the GE CF6-80, Pratt & Whitney 4000 series and the RollsRoyce Trent 700.


The A330-200 has sold quite strongly since its launch. Among the initial A330-200 customers are, apart from ILFC, Canada 3000, Korean Air, Austrian, Air Transat, Emirates, Swissair, Sabena, Monarch, Asiana, TAM, and Air Lanka.





Other Suggested Files:

Please read the Docs

Repaint by Meindert Wijnberg

Panel and Sound included
PJ-CDE 'Havana'

Airbus A340-300 GE ~ Posky

The A340-200 and 300 are the initial variants of the successful quad engined A340 family of long haul widebodies.


The A340 and closely related A330 were launched in June 1987, with the A340's first flight occurring on October 25 1991 (an A340-300). The A340 entered service with Lufthansa and Air France in March 1993, following JAA certification the previous December.


The A340 shares the same flightdeck including side stick controllers and EFIS, plus flybywire, basic airframe, systems, fuselage and wing with the A330 (the flightdeck is also common to the A320 series). Power is from four CFM56s, the four engine configuration being more efficient for long range flights (as twins need more power for a given weight for engine out on takeoff performance) and free from ETOPS restrictions.


The A340-300 has the same fuselage length as the A330-300, while the shortened A340-200 trades seating capacity for greater range (first flight April 1 1992).


The heavier A340-300E is available in 271,000kg (597,450lb) and 275,000kg (606,275lb) max takeoff weights, their typical ranges with 295 passengers are 13,155km (7100nm) and 13,525km (7300nm) respectively. Power for these models is from 152.3kN (34,000lb) CFM56-5C4s (the most powerful CFM56s built). The first A340-300Es were delivered to Singapore Airlines in April 1996.


The 275,000kg (606,275lb) max takeoff weight A340-8000 is based on the 200 but has extra fuel in three additional rear cargo hold tanks and offers a 15,000km (8100nm) range with 232 three class passengers (hence the A340-8000 designation). It too is powered by CFM56-5C4s. One has been built for the Sultan of Brunei.


All versions are offered with underfloor passenger sleepers.




Other Suggested Files:

Please read the Docs

Repaint by Meindert Wijnberg

Panel and sound included
PJ-WOW 'Heracles'

Airbus A380-800 ~ Project Airbus

The 555 seat, double deck Airbus A380 is the world's largest airliner, easily eclipsing Boeing's 747. The A380 base model is the 555 seat A380-800 (launch customer Emirates). Potential future models include the 590 ton MTOW 10,410km (5620nm) A380-800F freighter, able to carry a 150 tonne payload, and the stretched, 656 seat, A380-900.

Airbus first began studies on a very large 500 seat airliner in the early 1990s. The European manufacturer saw developing a competitor and successor to the Boeing 747 as a strategic play to end Boeing's dominance of the very large airliner market and round out Airbus' product line-up.

Airbus began engineering development work on such an aircraft, then designated the A3XX, in June 1994. Airbus studied numerous design configurations for the A3XX and gave serious consideration to a single deck aircraft which would have seated 12 abreast and twin vertical tails. However Airbus settled upon a twin deck configuration, largely because of the significantly lighter structure required.

Key design aims include the ability to use existing airport infrastructure with little modifications to the airports, and direct operating costs per seat 15-20% less than those for the 747-400. With 49% more floor space and only 35% more seating than the previous largest aircraft, Airbus is ensuring wider seats and aisles for more passenger comfort. Using the most advanced technologies, the A380 is also designed to have 10-15% more range, lower fuel burn and emissions, and produce less noise.

The A380 features an advanced version of the Airbus common two crew cockpit, with pull-out keyboards for the pilots, extensive use of composite materials such as GLARE (an aluminium/glass fibre composite), and four 302 to 374kN (68,000 to 84,000lb) class Rolls-Royce Trent 900 or Engine Alliance (General Electric/Pratt & Whitney) GP7200 turbofans now under development.

On July 24, 2000, Emirates became the first customer making a firm order commitment, followed by Air France, International Lease Finance Corporation (ILFC), Singapore Airlines, Qantas and Virgin Atlantic. Together these companies completed the 50 orders needed to launch the programme.

On receipt of the required 50th launch order commitment, the Airbus A3XX was renamed A380 and officially launched on December 19, 2000. The out of sequence A380 designation was chosen as the "8" represents the cross-section of the twin decks. In early 2001 the general configuration design was frozen, and metal cutting for the first A380 component occurred on January 23, 2002, at Nantes in France. In 2002 more than 6000 people were working on A380 development.

Apart from the prime contractors in France, Germany, the United Kingdom and Spain, components for the A380 airframe are also manufactured by industrial partners in Australia, Austria, Belgium, Canada, Finland, Italy, Japan, South Korea, Malaysia, Netherlands, Sweden, Switzerland and the United States. A380 final assembly is taking place in Toulouse, France, with interior fitment in Hamburg, Germany. Major A380 assemblies are transported to Toulouse by ship, barge and road.

On January 18, 2005, the first Airbus A380 was officially revealed in a lavish ceremony, attended by 5000 invited guests including the French, German, British and Spanish president and prime ministers, representing the countries that invested heavily in the 10-year, �10 billion+ ($13 billion+) aircraft program, and the CEOs of the 14 A380 customers, who had placed firm orders for 149 aircraft by then.

Later, the following companies also ordered the A380: FedEx (the launch customer for the A380-800F freighter), Qatar Airways, Lufthansa, Korean Air, Malaysia Airlines, Etihad Airways, Thai Airways and UPS.

However, in 2007, amid production delays, Airbus announced that it was halting design work on the A380 freighter to concentrate on the passenger version of the aircraft. FedEx and UPS canceled their orders for the aircraft.

Five prototypes were used in the flight test programme, which was heavily delayed due to problems with configuration management and wiring issues. The first flight occurred in August 2006, and entry into commercial service, with Singapore Airlines, took place in October 2007.




Other Suggested Files:

Please read the Docs

Repaint by JF

2D and VC panel options included

FS9

FSX Has some panel limitations
PJ-TQK 'Cork Landing'

FS9 ONLY

Avro Regional Jet 100 ~ ARNZ

The Avro RJ series are upgraded developments of the BAe-146 family (see separate entry), and like the 146 was built in three fuselage length variants, the RJ70, RJ85 and RJ100.

In 1990 British Aerospace first offered the improved RJ70 and RJ80, both of which were based on the 146-100. They would have seated 70 and 80 passengers respectively, but these two designs matured in the Avro RJ70 (officially Avro 146-RJ70) with improved FADEC equipped LF-507 engines and digital avionics.

The 146-200 based Avro RJ85 was the first member of the new family to fly, on March 23 1992. The biggest member of the family, the 146-300 based RJ100, first flew on May 13 1992. The 146-100 based RJ70 was delivered from late 1993 but due to low customer interest, only 12 were sold.

RJ improvements over the 146 include more reliable and efficient FADEC equipped AlliedSignal (now Honeywell) LF-507 engines, new "Spaceliner" cabin interior and a digital flightdeck. Weight and drag savings were introduced in 1996.

The RJ100 was also offered as the RJ115 with extra emergency exits to seat 116 to 128 in a high density six abreast configuration. None were built however. The RJ was also offered as the Avro Business Jet, but also none of these were built.

The RJ series was originally manufactured and marketed by Avro International Aerospace, a separate British Aerospace company, so named as RJ production was undertaken at the former Avro factory near Manchester (most 146s were built at Hatfield). Subsequent plans for a partnership with Taiwan Aerospace, which would have seen the RJ series built in Taiwan fell through and Avro subsequently became part of AI(R) to handle marketing, sales and support of British Aerospace (Avro and Jetstream) and ATR commercial aircraft. However, AI(R) disbanded in mid 1998 and the Avro RJ range became again a British Aerospace (later BAE Systems) product.

The last RJ was delivered in 2002. A modernised development became the Avro RJX, for which see the separate entry.

Other Suggested Files:

Repaint by JF
PJ-GCI 'Isla Margarita' Tradewind Caribbean NG (repainted version)

PJ-GCR 'Cap Haïtien' Tradewind Caribbean RetroJet (Red/Ivory)

N788TA 'Libby Riddles' Tradewind Alaska NG

CU-T-7382 Tradewind Express

F-OHCH 'Îles Sous-le-Vent' Tradewind Pacific

Boeing 737-800w ~ Posky

Boeing's Next Generation 737-800 and 737-900 are the largest members of the strong selling 737 family. Unlike the other Next Generation 737s, the -800 and -900 introduce new fuselage lengths, extending 737 single class seating range out to 189, compared with 100 in the original 737-100.


Like the -600 and -700, the -800 and -900 feature the Next Generation improvements including more efficient CFM56-7B turbofans, the new wing with greater chord, span and wing area, larger tail surfaces and the 777 style EFIS flightdeck with six flat panel LCDs which can present information as on the 777 or as on the 737-300/400/500 series, the latter allowing a common pilot type rating for the two 737 families. A HUD is optional. BBJ style winglets are offered as an optional feature for the -800

Other Suggested Files:

Repaint by JF

Includes VC and 2D Panel
PJ-GDI 'Lady Marion' Tradewind Caribbean 737

Includes PJ-HPW 'Pan American Trader' Tradewind Logistics 737

PJ-GFI 'Isle of St Thomas' Tradewind Caribbean 738

PJ-GHI 'Empress of Mayaguana' Tradewind Caribbean 739

Boeing 737/700ER-ERF/800ER/900ER/ ~ TDS

Boeing's Next Generation 737-800 and 737-900 are the largest members of the strong selling 737 family. Unlike the other Next Generation 737s, the -800 and -900 introduce new fuselage lengths, extending 737 single class seating range out to 189, compared with 100 in the original 737-100.


Like the -600 and -700, the -800 and -900 feature the Next Generation improvements including more efficient CFM56-7B turbofans, the new wing with greater chord, span and wing area, larger tail surfaces and the 777 style EFIS flightdeck with six flat panel LCDs which can present information as on the 777 or as on the 737-300/400/500 series, the latter allowing a common pilot type rating for the two 737 families. A HUD is optional. BBJ style winglets are offered as an optional feature for the -800

FS9 and FSX

Repaints by Meindert Wijnberg

FSX version includes enhanced VC
PJ-GBI 'Elena Laura'

FS9 ONLY

Boeing 737-900ER ~ Posky

Boeing's Next Generation 737-800 and 737-900 are the largest members of the strong selling 737 family. Unlike the other Next Generation 737s, the -800 and -900 introduce new fuselage lengths, extending 737 single class seating range out to 189, compared with 100 in the original 737-100.


Like the -600 and -700, the -800 and -900 feature the Next Generation improvements including more efficient CFM56-7B turbofans, the new wing with greater chord, span and wing area, larger tail surfaces and the 777 style EFIS flightdeck with six flat panel LCDs which can present information as on the 777 or as on the 737-300/400/500 series, the latter allowing a common pilot type rating for the two 737 families. A HUD is optional. BBJ style winglets are offered as an optional feature for the -800

Other Suggested Files:

Repaint by Meindert Wijnberg

Panel and sound included
PJ-SPE 'Captain Jack Sparrow'

FS9 ONLY

Captain Jack's spirit is captured in two painted tears in the aircraft's skin, reflecting our Caribbean essence and highlighting the link with Tradewind Executive BizJetz's aircraft who are named after real Pirates.

PE is configured to operated in the

Caribbean - South America - South Africa sectors

Boeing 747- SP44 ~ Posky

Boeing developed the 747SP in the mid 1970s as a longer range, shortened 747, trading passenger seating for extra range. The 747SP is the only 747 model to feature a changed fuselage length compared with the 747-100.

The 747SP first flew on July 4 1975, certification was awarded on February 4 1976 and first delivery (to Pan American) was in March 1976.

The 747SP's fuselage is shortened by 14.35m (47ft 1in) compared to other 747 models, while the vertical tail was increased in height to compensate for the reduced moment arm with the shorter fuselage. Structurally the 747SP was lightened in some areas because of the significant reduction in gross weights. Overall though the 747SP retained 90% commonality of components with the 747-100 and 200. While shortening the 747's fuselage increased the fuel fraction and thus range, it also meant that seating capacity was reduced.

The SP suffix in 747SP stands for Special Performance, and points to the ultra long range abilities of this 747 variant that preceded the later 747-400 by 15 years. The 747SP's range is best illustrated by the spate of long range distance records it set in the mid 1970s. The most prominent of those was the delivery flight of a South African Airways SP, which over March 23/24 1976 flew nonstop with 50 passengers from Paine Field in Washington State to Cape Town, South Africa, a distance of 16,560km (8940nm). This world nonstop record for a commercial aircraft stood until 1989 when a Qantas 747-400 flew 17,945km (9688mn) nonstop from London to Sydney.

Sales of the 747SP were modest despite the increased range, as the SP had poorer operating economics per seat compared to the 747-200. However the 747SP did pioneer a number of long range nonstop services that are now commonly flown by the 747-400.

Notable SP customers included South African Airways (who found the SP's extended range a great asset in bypassing African nations that denied it landing rights while South Africa's apartheid policies were in place), Qantas and PanAm, the latter pioneering nonstop trans Pacific Los Angeles/Sydney services.

In early 2005 less than twenty SPs remain in airline or corporate service


WEIGHT DATA
Maximum Takeoff Weight (kg) ______ 317,515


CABIN DIMENSIONS
Maximum pax ______
Optimal pax ______
Cabin Length (m) ______
Cabin width (m) ______
Cabin height (m) ______
Cabin volume (ku m) ______


FLIGHT CAPACITY
Range (km) ______ 15,400
• ______
Normal Cruise Speed (kmph) ______
Normal Operating Altitude (FL) ______ 430

Maximum Operating Altitude (FL) ______ 450


TECHNICAL DATA
Length (m) ______ 56.31
Height overall (m) ______ 19.94
Wingspan (m) ______ 59.64
Wing area(m2) _______ 511



Other ESSENTIAL Files:

* The panel and sound are aliased to the TExec 747SP but if you want those files seperately they are here:

Repaint by JF

FDE by Karl Hajek configured as:

Upper Deck:

16 First Class (fully reclinable, sleepers) , 4 abreast.

Main Deck:

row 1 -5// 35 Business, 4 abreast, last row 5 abreast (half reclinable)

row 6-15 80 Economy, 8 abreast

row 16-25 80 Economy, 8 abreast

row 26 - 25 80 Economy, 8 abreast

total crew is 3/10 (3 cockpit, 2 first class, 8 biz and eco class F/A)

Includes a nice 2D panel *
PJ-TYA 'Empress of Asia'

FS2002 & FS9

Panel may not work in FS2002 ?

Boeing 747-400ER ~ Posky

The 747-400 is the latest, longest ranging and best selling model of the 747 family.


Boeing launched the 747-400 in October 1985 and the first development aircraft first flew on April 29 1988. US certification (with PW-4000s) was awarded in January 1989.


The 747-400 externally resembles the -300, but it is a significantly improved aircraft. Changes include a new, two crew digital flightdeck with six large CRT displays, an increased span wing with winglets (the -400 was the first airliner to introduce winglets), new engines, recontoured wing/fuselage fairing, a new interior, lower basic but increased max takeoff weights, and greater range.

The latest model is the 747-400ER, which was launched on November 28, 2000 when Qantas placed an order for 6. The -400ER has the same size as the -400, but has more range or payload capability. The MTOW was increased by 15,870kg (35,000lb) to 412,770kg (910,000lb), giving a further range of 805km (435nm) or a 6800kg (15,000lb) greater payload. The -400ER also features a wholly new cabin interior with larger luggage bins, and several flight deck improvements.


The -400ER incorporates the strengthened wing, body, and landing gear of the -400F, plus an auxiliary fuel tank in the forward cargo hold, and an optional second one. Operators who don't need these can remove them both, gaining additional cargo volume.

Other Suggested Files:

Repaint by JF

Includes 2D Panel
PJ-TMH 'Grand Riviere'

FS9 ONLY

Boeing 757-200 RR ~ Posky

Boeing launched development of the 757 in March 1979 following orders from British Airways and Eastern. Developed in tandem with the larger widebody 767 the two types share a number of systems and technologies, including a common early generation EFIS flightdeck.


First flight was on February 19 1982 and the 757 entered service in January the following year. Subsequent versions to appear are the 757-200PF Package Freighter, a pure freighter, and the 757-200M Combi (only one has been built). The standard passenger aircraft is designated the 757-200, there being no 100. The stretched 757-300 is described separately.


Initial sales of the 757 were fairly slow, however orders picked up significantly in the mid to late 1980s as traffic on routes previously served by smaller 727s and 737s grew to require the 757's extra capacity. Today 757 sales comfortably exceed those of the 767

Essential Files: Required for panel set up here

Other Suggested Files: Adding Winglets here

Warning !

This file is 39Mb so if you only want the textures get them here

Repaint by JF

Includes VC and 2D Panel
PJ-TNQ 'Jamaican Promise'

FS9 ONLY

Boeing 767-300ER RR ~ Posky

Boeing announced that it was developing a stretched development of the 767-200 in February 1982.


The resulting 767-300 features a 6.42m (21ft 1in) stretch consisting of fuselage plugs forward (3.07m/10ft 1in) and behind (3.35m/11ft) the wing centre section. The flightdeck and systems were carried directly over from the 767-200, the only other changes were minor, and related to the increased weights of the new version. Initially the max takeoff weight was the same as the later 767-200ER.


The 767-300 flew for the first time on January 30 1986, and was awarded certification and entered service in September that year. The higher weight Extended Range ER version flew on December 19 1986, while RollsRoyce RB-211-524G engines became available from 1989. The range of the 767-300ER has proven to be very popular with a number of airlines using them for long range low density flights.


In 1993 Boeing launched the 767-300F General Market Freighter. Changes include strengthened undercarriage and wing structure, a cargo handling system, no cabin windows and a main deck freight door. Capacity is 24 containers. The further stretched 767-400 is described separately.


Other Suggested Files:

Repaint by JF

Includes 2D Panel
PJ-TGB 'Caribbean Sunrise'

Boeing 777-200ER ~ Meljet

Boeing's advanced widebody 777 twin incorporates more advanced technologies than any other previous Boeing airliner, and has been progressively developed into increasingly longer range developments.


The 777 was originally conceived as a stretched 767, but Boeing instead adopted an all new design. Notable 777 design features include a unique fuselage cross section, Boeing's first application of fly-by-wire, an advanced technology glass flightdeck with five liquid crystal displays, comparatively large scale use of composites (10% by weight), and advanced and extremely powerful engines. The 777 was also offered with optional folding wings where the outer 6m/21ft of each would fold upwards for operations at space restricted airports.


The basic 777-200 as launched in October 1990 was offered in two versions, the basic 777-200 (initially A-Market) and the increased weight longer range 777-200IGW (Increased Gross Weight, initially B-Market). The IGW has since been redesignated 777-200ER.


The 777-200 first flew on June 12 1994, with FAA and JAA certification awarded on April 19 1995. The FAA awarded full 180 minutes ETOPS clearance for PW4074 -200s on May 30 that year. First customer delivery was to United Airlines in May 1995. The first 777-200IGW/ER was delivered to British Airways in February 1997.


The 777-100X was a proposed shortened ultra long range (16,000km/8635nm) model, dropped in favour of the 777-200LR (originally 777-200X) design study. Boeing claims the 777-200LR will be the longest ranging airliner, capable of flying 16,417km (8865nm) - 18 hours flying time. It will achieve this with awesomely powerful 489kN (110,000lb) thrust GE90-110B1 turbofans, a significantly increased max takeoff weight and optional auxiliary fuel tanks in the rear cargo hold. Other changes include 2m (6.5ft) raked wingtips, new main landing gear, structural strengthening and optional overhead crew and flight attendant rest stations above the cabin. The 777-200LR was launched in 2000, but is now delayed until 2006.

Other Suggested Files:

777 Ge-90 " the real deal " Version 2 by Christoffer Petersen

Repaint by JF

Includes 2D Panel
PJ-TGA 'Empress of the Caribbean'

Boeing 777-300ER ~ Posky

Boeing's 777-300 is powered by the world's most powerful turbofan engines. The stretched 777-300 is designed as a replacement for early generation 747s (747-100s and 200s).

Compared to the older 747s the stretched 777 has comparable passenger capacity and range, but burns one third less fuel and features 40% lower maintenance costs. Compared with the baseline 777-200 the 300 features a 10.13m (33ft 3in) stretch, comprising plugs fore and aft of the wings. The longer fuselage allows seating for up to 550 passengers in a single class high density configuration.

To cope with the stretch and the up to 13 tonne (28,600lb) increased max takeoff weight the 300 features a strengthened undercarriage, airframe and inboard wing. Other changes compared with the 777-200 include a tailskid and ground manoeuvring cameras mounted on the horizontal tail and underneath the forward fuselage. Otherwise changes have been kept to a minimum to maximise commonality.

Boeing publicly announced it was developing the 777-300 at the Paris Airshow in mid June 1995 where it revealed it had secured 31 firm orders from All Nippon, Cathay Pacific, Korean Airlines and Thai Airways. Later that month Boeing's board authorised production of the new aircraft. The 777-300 rolled out on September 8 1997, followed by first flight on October 16 that year. The type made history on May 4 1998 when it was awarded type certification simultaneously from the US FAA and European JAA and was granted 180min ETOPS approval.

Service entry with Cathay Pacific was later in that month. Like the 777-200, a 777-300ER long range version has been developed. Changes made to the 777-300ER are more powerful General Electric GE90-115B engines (currently the world's most powerful jet engine), raked wingtips, strengthened body, wings, empennage, nose gear, engine struts and nacelles, new main landing gear, and provision for extra fuel tanks. The range, carrying 365 passengers, is increased up to 13,427km (7,250nm).

Roll-out of the first 777-300ER was made on November 14 2002, followed by the first flight on February 24 2003. First delivery, to Air France, is scheduled for March 2004.

Other Suggested Files:

Repaint by Meindert Wijnberg

Includes 2D Panel
PJ-DRM 'Caribbean Vision' Tradewind Caribbean

Also

PJ-DRF 'Soño Transportadó' Tradewind logistics

N787TA 'Alaskan Vision' Tradewind Alaska

F-OHDL 'Pacific Vision' Tradewind Pacific

Boeing 787-800 ~ TDS

The Boeing 7E7 was announced on 29th January 2003 following the cancellation of the Sonic Cruiser. The aircraft was renamed the Boeing 787 in 2005.

This important design marked a major shift in technology for Boeing, which aimed for maximum fuel efficiency in a number of ways. Chief among these was a radical change of construction material, with much of the aircraft being built of carbon fibre reinforced plastic (CFRP). Additionally, the fuselage was produced as 'barrels' rather than sheets of material, reducing the number of fastenings required. This further increased the weight savings. Many of the aircraft's systems are now electrically operated, replacing the heavier hydraulic systems of earlier Boeing designs with lighter technology.

The engines are new designs with increased fuel efficiency. Both the General Electric GEnx and Rolls-Royce Trent 1000 designs are available. Boeing decided to use bleedless designs, another major change for aircraft of this class. Interestingly, Airbus decided not to use bleedless technology on its competing Airbus A350 design and it remains to be seen which approach offers the greatest benefits over the other. The rear engine nacelle has a distinctive rippled look which reduces noise as the engine exhaust and external air mix.

For passengers, there have been a number of technology improvements. Most noticeably, the windows are amongst the largest in a civil airliner and are lower on the fuselage than is usual, so that passengers have a better view downwards. The lighting system use LED technology allowing each customer great flexibility on the lighting schemes it can use. The pressurisation system features a lower cabin altitude than normal and allows increased humidity, both factors which will contribute to passenger comfort during a long flight.

With all these technology advances and a distributed manufacturing program that was very new to Boeing, it is not suprising that the program encountered a number of delays. However, the first aircraft was delivered to a customer, All Nippon Airways, in September 2011.

Other Suggested Files:

Repaint by JF

FSX version includes updated 738 VC and 787 2D Panel

Also an option for Aerosim VC and sound alias
PJ-BRJ 'Key West'

FS9 ONLY

Bombardier CRJ-200LR ~ Posky

Bombardier's Canadair Regional Jet pioneered the new 50 seat jet class, and has since become a runaway sales success.


The Canadair Regional Jet - or CRJ - is designed to offer the high speed advantages of much larger jets, with similar standards of service while at the same time offering operating economics, particularly over longer stage lengths, close to that of comparable size turboprops.

The original CRJ-100 series - the 100, 100ER and 100LR - was augmented by the 200 series (with more efficient engines) in 1995. The Series 200 is available in standard 200, long range 200LR with optional greater fuel capacity, and the extended range Series 200LR (all three are offered in B form with CF34-3B1s for improved hot and high performance).

Other Suggested Files:

Repaint by JF
PJ-BRG 'Manzanillo' Tradewind Caribbean

Includes

N371TA 'Homer' Tradewind Alaska

N371TH 'Kaunakakai' Tradewind Hawaii

Bombardier CRJ-700ER ~ Posky

Bombardier's 70 seat Canadair CRJ-700 is the first significant development of its fast selling 50 seat Canadair Regional Jet series.

Definition and development work on the Series 700 commenced in 1995 when Bombardier began consultation with a 15 member airline advisory panel on what the airlines wanted in a 70 seat class regional jet. Prior to its January 1997 formal launch the Series 700 was dubbed the CRJ-X.

Construction of the first prototype Series 700 began in late 1998 and first flight took place in May 1999. The CRJ-700 entered service in February 2001 with French airline Brit Air.

Compared with the 50 seat CRJ Series 100/200, the Series 700 is stretched by 4.72m (15ft 6in) with plugs forward and aft of the wing, while the cabin is 6.02m (19ft 9in) longer, aided by moving the rear pressure bulkhead 1.29m (4ft 3in) aft. The cabin windows are raised by 12cm (5in), the cabin floor is lowered slightly and the ceiling raised to provide 1.90m (6ft 3in) headroom, and an underfloor baggage compartment under the forward fuselage is added. Other changes include relocating the APU to the rear fuselage and redesigned overhead stowage bins.

The wing too comes in for attention, with span increased by a 1.83m (6ft 0in) wing root plug, while the leading edge is extended and high lift devices added. The main undercarriage units are lengthened and fitted with new wheels, tyres and brakes.

Power is from two FADEC equipped General Electric CF-34-8C1 turbofans (which were selected in February 1995), while the flightdeck is based on that in the earlier CRJs and features six CRT displays presenting information from the Collins Pro Line 4 EFIS avionics suite.

Like other Bombardier aircraft, the CRJ Series 700 is the product of a joint manufacturing effort. Canadair manufactures the wing and flightdeck and is responsible for final assembly, Mitsubishi builds the aft fuselage, Shorts is responsible for the fuselage and engine nacelles Avcorp the tail, and Westland the tailcone.

Other Suggested Files:

Repaint by JF
PJ-BRZ 'Bellefontaine'

FS9 ONLY

Bombardier CRJ-900LR ~ Posky

The Bombardier CRJ900 is designed to hold 86-90 passengers in a 4-abreast configuration with two lavatories and a galley as standard equipment. It can also be configured with optional 3-abreast business-class seating.

Bombardier developed a new larger winglet and improved aerodynamics for the CRJ900 that give it excellent takeoff, climb, cruise and landing performance as well as reducing the fuel burn.

Bombardier Aerospace offers 3 versions of the CRJ900: the standard CRJ900, the CRJ900 ER and CRJ900 LR. The standard version has a maximum takeoff weight of 80,500 pounds (36,504 kg) and a range of 1,350 nm (1,554 sm / 2,500 km). The Extended Range (ER) variant has a maximum take-off weight of 82,500 pounds (37,421 kg) and range of 1,593 nm (1,833 sm / 2,950 km). The Long Range (LR) model has a maximum take-off weight of 84,500 pounds (38,330 kg) and a range of 1,828 nm (2,104 sm / 3,385 km). The CRJ900 has outstanding performance, capable of max cruise speeds of Mach 0.83 (475 kts / 547 mph / 881 kph), and cruise altitudes up to 41,000 feet.

The Bombardier CRJ900 is powered by two General Electric CF34-8C5 turbofan engines that produce 14,510 pounds (63.2 kN) of take-off thrust. These same engines also power the CRJ700 and CRJ705, allowing for greater commonality between family members. Originally developed for the United States Air Force, the CF34 family has over 20 million flight hours and is highly regarded as one of the most reliable and efficient powerplants built. In addition to having improved fuel and cooling efficiencies, the Bombardier CRJ900 Series' powerplant delivers a performance envelope comparable to that of a mainline jet.

The CRJ900 is 118 feet, 8 inches (36.2 m) long with a wing span of 81 feet 6 inches (24.9 m).

Other Suggested Files:

Repaint by JF
PJ-ECE 'Rendezvous Bay'

FS9 ONLY

Embraer ERJ 135 ~ Dreamwings

The ERJ-135 and more recent ERJ-140 are shortened developments of the 50 seat ERJ-145

Embraer launched the ERJ-135 on September 16 1997. Just nine and a half months passed before first flight on July 4 1998 (following rollout on May 12 that year). A second prototype first flew in October 1998

Few new airliners have sold as quickly from their launch as the ERJ-135. Building on the success of the 145, the 135's order book stood at 145 at late 1998, barely a year after launch

Other Suggested Files:

N.B.

Both Panel and Sound folders are aliased to the ERJ 145 aircraft, so if you only want one of the ERJs grab the ERJ 145

There are two small errors in the new ERJ 135, which are very easy to correct. Panels and sounds are aliased to TCA_ERJ-145. while the real ERJ-145 sits in TCA_NG_ERJ-145. To correct this, replace TCA with TCA_NG in panel.cfg and sound.cfg.


Optional but recommended:

aircraft.cfg update based on real world AOM data by Karl Hajek

Repaint by Francisco Aguiar
PJ-EDE 'Half Moon Bay'

FS9 ONLY

Embraer ERJ 145 ~ Dreamwings

Despite a chequered early development history, the 50 seat ERJ-145 has become a runaway sales success.


Embraer began working on 50 seat regional jet concepts in the late 1980s. The original EMB-145 (the marketing designation later became ERJ-145) was launched in mid 1989 and would have been a stretched and jet engined EMB-120 Brasilia. Features of this design included a straight wing with winglets and the two turbofans mounted forward of the wing as on most low wing turboprops. This design would have seated 45 to 50 passengers and featured 75% commonality with the Brasilia. In that configuration cruising speed would have been 740km/h (400kt) and range with a 4500kg (9920lb) payload 2500km (1350nm).

Other Suggested Files:

Optional but recommended:

aircraft.cfg update based on real world AOM data by Karl Hajek

Repaint by Francisco Aguiar
PJ-EGA 'San Fernando'

FS9 ONLY

Embraer ERJ 170 ~ Dreamwings

The Embraer ERJ-170 and ERJ-190 series are all new entrants into the top end of the regional jet airliner market, with seating capacities spanning from 70 to 108.

The first member of the family is the 70 seat Embraer 170, which rolled out on October 29 2001 (when the ERJ prefix was dropped for the marketing designation) and first flew on February 19 2002. Six aircraft were being used in the flight test program.

Features of the family include new FADEC equipped GE CF34 engines (the most powerful CF34 variants), a new four abreast "double bubble" fuselage cross section, a moderately swept wing with winglets (added to the design in mid 2000), fly-by-wire flight controls, and Honeywell Primus Epic EFIS avionics.

Other Suggested Files:

Repaint by Francisco Aguiar
PJ-LJK 'Ocho Rios'

-250 Pax

Lockheed Tristar ~ HJG

The Lockheed TriStar was the second widebody airliner to be launched, and although it was dogged with early financial and development problems, particularly with the engine, it went on to gain an excellent reputation in service for its reliability, economy of operation and low noise emissions.

The L-1011 TriStar was the last Lockheed airliner to be developed and was launched in March 1968 in response to an American Airlines requirement (that also resulted in the DC-10) for a large capacity medium range airliner. Lockheed initially studied a twin engined layout, but it was decided that three engines would be necessary to ensure it could takeoff at max weights from existing runways.

Work on the L-1011 prototype began early in 1969, resulting in a November 16 1970 first flight. The engine choice of Rolls-Royce's advanced three shaft design RB211 however dogged the TriStar's early career. Rolls-Royce went bankrupt in February 1970 largely due to higher than estimated RB211 development costs, severely harming both Lockheed and the TriStar sales program. The problems were able to be resolved after the British government nationalised Rolls-Royce, guaranteeing the supply of production engines. Despite the initial problems the RB211 proved to be extremely reliable and efficient in service and grew into a family of variants.

The first L-1011 model that entered service with Eastern and TWA in April 1972 was the initial domestic L-1011-1 (which was built in greater numbers than any other TriStar variant). Subsequent models to be developed were the -100 with more fuel and higher weights, the -200 with higher thrust engines, and the long range shorter fuselage -500, described separately.

Production ceased in 1983, when 250 had been built. The prototype was sold to be broken up for spares in 1986.

Many aircraft were converted to improved models: the -50 with a higher MTOW and strengthened fuselage, wings, and undercarriage, the -150 with a higher MTOW, the -250 with RB211-524B4 engines (as on the 500) for US carrier Delta, a small number to freighters with a large cargo door as -1(F) and -200(F), and quite a few to -100 and -200.

An ex Air Canada TriStar 100 was converted in 1992 by Marshall of Cambridge (Engineering) Ltd for Orbital Sciences Corporation as the "Stargazer" flying satellite launcher. After launching the Pegasus Air-Launched Space Booster from the TriStar, the Pegasus itself launched a satellite into low Earth orbit.

Another TriStar 100, ex Worldways Canada, was converted in 1995/1996 by Lockheed Aeromod Center to a flying hospital for Operation Blessing International Relief & Development Corporation, a non-profit humanitarian organisation. Apart from the hospital equipment, the aircraft is fitted with systems to be independent from local ground-based equipment.

Approximately 156 TriStars remained in service in 1998, of which 122 were standard fuselage models. In 2000 this number had gone down to about 137, of which 109 standard fuselage models, and at the end of 2002 this had further dropped to 51 active TriStars, of which 23 standard fuselage ones.

Repaints by Jack Ford